Welcome to Tailrace Weddings. We're a Wedding Venue based in Launceston with over 15 years experience in the wedding industry. We believe that beautiful weddings don't have to be complicated, stressful and unaffordable. 
You're Engaged, Congratulations! We know this dream to get Married is special.
You want the wedding of your dreams without compromise. A ceremony expressing the heart. Food which is delicious and tempts seconds. Styling where guests go wow. A room which allows you to celebrate.
At Tailrace Weddings we want to capture your dream and remove the stress so you can truly enjoy the day with your guests and family.
We don't want you to wait for information, to compromise your dream, to apologise to family and friends for the quality of ceremony music or the food not being delicious.
You need one partner who can work with you to bring your dream to life and have everyone talking about the amazing wedding you planned and dreamed of.
At Tailrace we are passionate about creating beautiful, stress free events. We've done over 400 weddings and know that planning a wedding doesn't have to be a stressful experience.
Sharon and Nicole are here to help guide you through the process and help you figure out what you want your wedding day to be.
We can't wait to start planning your special day.
How we can help bring your wedding to life
The Tailrace Centre is located on the banks of the Tamar River, just a short 5 minute drive from the Launceston CBD making it the ideal venue for your wedding. 
We have 3 beautiful reception rooms and a stunning lawn for you to choose from. Whether you're looking for a space for your engagement party, wedding ceremony or reception, we have the perfect space for you.
In addition to room hire we also provide; 
Room Set up
Furniture (tables, chairs, cocktail-style furniture, etc.)
Bar & Staffing
Food Service
Cutlery, crockery & glassware, white linens
Wireless microphone & sound system. 
We know that food is one of the most important parts of the wedding day, you want your food to be timely, delicious and plenty of it. 
At Tailrace we have a team of talented and creative chefs who have created a menu we know you will love and a wonderful team of front of house staff to look after you.  
Our menu's include:
Canapés & Platters

Plated Meals

Buffets 
If you can't find the menu you you're after, let us know and we can work together to create something delicious! 
*All food and beverage staffing is provided by us. 
We know that styling a wedding can feel overwhelming and expensive. But we believe that you can have a beautiful wedding reception without the causing you any headaches or budget blowouts. 
At Tailrace, we've put together a styling package that covers all the essentials, from your linens to your candles and event signage. 
We'll even set it all up for you. 
Get in touch with our team at [email protected] to learn more about our styling package.
Download our Wedding Compendium
Real Couples. Real Love. Real Weddings.
"Caleb and I had our wedding ceremony at Tailrace in January 2023. We were so pleased with not only the venue, but with how helpful and attentive all the staff were. I was able to email all my questions, and get a quick response, as well as the venue being available for me to visit and ask any questions in person when I needed. The staff were helpful and professional on the day, and ensured everything ran smoothly and as planned. Such a beautiful venue for a wedding, we would definitely recommend!"
"Wilson and I just got married at Tailrace on the 6th of November 2022. We had the best day of our lives, not just us, but our guests as well. Everyone enjoyed the food! It was amazing, top-class! And Sharon whom we first met one year ago when we enquired the place as a venue for our wedding is absolutely the most lovely person I've ever met. She's so patient, kind, genuine and so easy to work with. All her staff were amazing and detailed to attentions and great at responding to your needs! They made our wedding journey a whole lot easier and less stressful. They've also went above and beyond to cater to what we want to have on our wedding day!"
Brooke & Shane
Wedding Date: 18/01/2020 | Easy Weddings Review
We were absolutely blown away with tailrace. Their communication was fantastic, the ladies were easy to talk to and deal with. The location was STUNNING! Our ceremony was perfect! We really could not have asked for anything more. We got married in the gardens down the bottom, it was peaceful, private and a gorgeous spot once everything come together!! Thankyou Sharon, Lauren & team. We are very blessed xx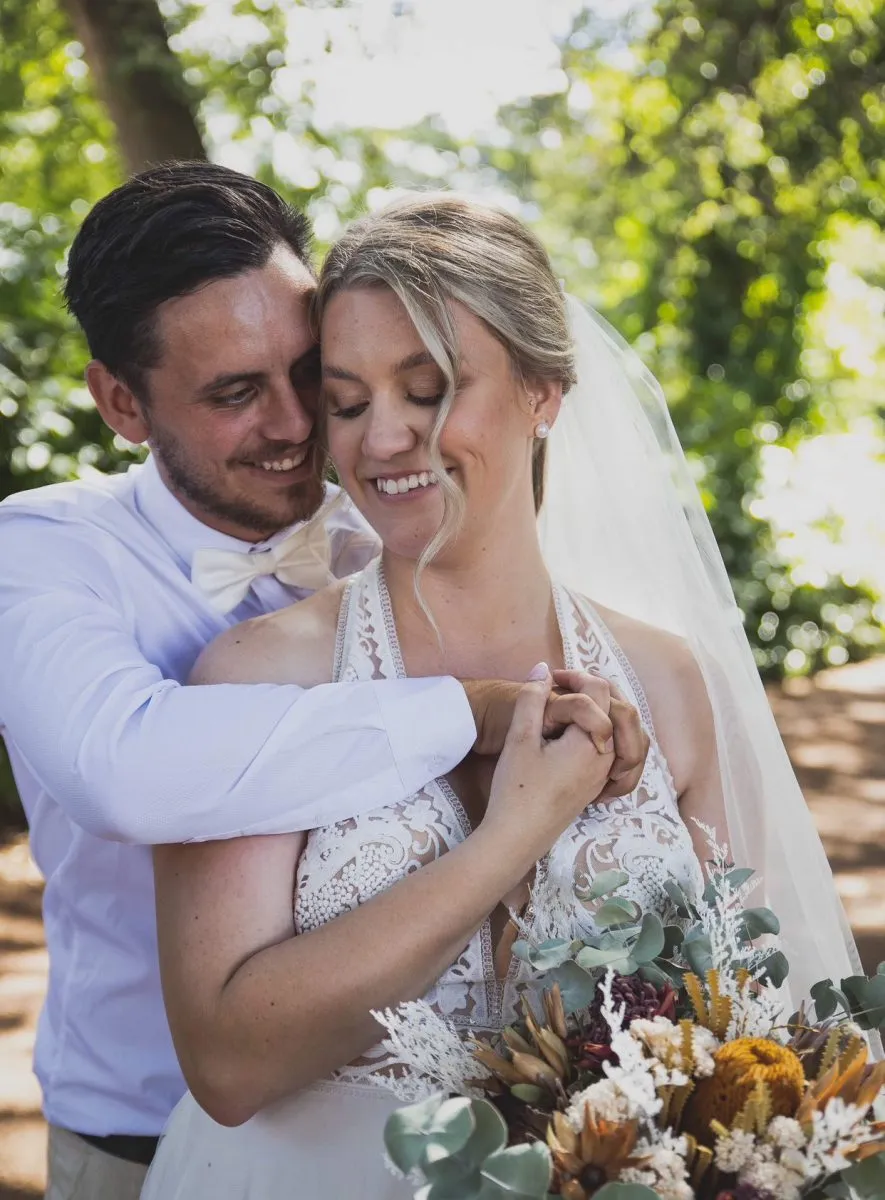 Jaimy & Matthew
Wedding Date: 21/01/2023 | Google Review
You made our day amazing! Everyone was amazed at how stress free I was on the day as a bride - this was all thanks to the team at tailrace for doing literally everything for us! Styling, food, beverages, music etc. We had a vision for our day and you guys made it come to life. So thank you!
Bec & Tom
Wedding Date: 07/01/2023 | Google Review
Just wanted to say a massive thank you for all that you did to make our wedding day as magical as it was!! We loved having our reception on your beautiful lawn area and the food served was absolutely delicious! Thanks also so the efforts you put in to setting up the lolly bar. It looked gorgeous - a million times better than I ever imagined! Thank you so much for your wonderful service and help!
Sophie & Sam
Wedding Date: 2/02/2019 | Easy Weddings Review
"Absolutely amazing wedding venue! We came from Melbourne 3 days prior to our Wedding day and the tailrace had everything organised for us in advance. The reception room was set up and looked absolutely beautiful, the ceremony was outdoors in their beautiful lush gardens and the event planners were so helpful. They literally organised everything from start to finish. We didn't have to think about a thing apart from turning up and having the best day ever. Ceremony, reception, celebrant, food, alcohol, staff, decorations ABSOLUTELY everything is done for you via the venue with so much flexibility. Our day was nothing short of perfect and felt absolutely magical!!! I just want to relive this day over and over. The Tailrace are incredible at making this journey stress free and perfect!"
Kym & Jamie
Wedding Date: 06/01/2023 | Google Review
i had my wedding here in jan 2023. the service was excellent. they organised EVERYTHING. thanks so much guys 🙂
Michael & Emma
Wedding Date: 19/03/23 | Google Review
The team at Tailrace could not have been more helpful if they tried! Nothing we asked for was too much and they went above & beyond to make our day perfect.
Bianca & Bradley
Wedding Date: 05/11/2022 | Google Review
We were exceptionally happy with our wedding, everything went seamlessly. The willow lawn for our ceremony was beautiful and the set up of our reception was stunning. Thank you for the assistance in the months leading up to our big day. Wouldn't change a thing ☺️
Liam & May
Wedding Date: 26/11/22 | Email Review
Dear Sharon, Nicole and Team. Thank you so much for being part of our wedding day! We loved getting to work with you to bring our special day to life. We appreciate your help in creating unforgettable moments that will last a lifetime. Love May & Liam xx
James & Emma
Wedding Date: 11/02/23 | Google Review
The team at Tailrace could not have been more helpful if they tried! Nothing we asked for was too much and they went above & beyond to make our day perfect.